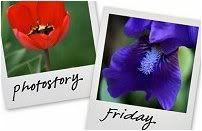 Hosted by Cecily and MamaGeek
Jackson is my nephew.
Jackson's feet, like Jack himself, are just a little different. They're a little stubbier, the toes are a little rounder. They are nearly two years old, but have yet to take an independent step. They'll be fitted with braces soon, to help correct the areas where they haven't developed "right." 
Jack's eyes haven't developed "right" either. Nor his ears, or his heart or much of his physical body. Jackson's feet will carry him through life, behind the other kids, in many ways. He will always be catching up. 
But in many other ways, there is no mistake -- Jackson has arrived!
The spirit in this little boy is so big and so sweet. He attracts attention just by being in the room. His smile is so serene -- as though he knows a wonderful little secret that no one else knows. 
He may not talk yet, but that doesn't mean he's not opinionated. He's very vocal about his feelings, and isn't shy about expressing himself -- loudly -- in the back yard or in church. 
He may be behind other kids physically, but he embraces and participates in life to his fullest ability -- just like every other kid. The difference? I think he always will. 
I find myself envying him. 
I also find myself thanking God for this giant spirit in the little, imperfect body with the round stubby toes. He is teaching my children -- our whole family -- the art of unconditional love.