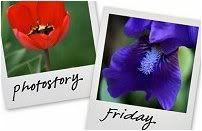 Hosted by Cecily and MamaGeek
I was once told, by a kind old gentleman, that I have a gift for seeing beauty. 
I'm not conjuring up a romantic image here, this really happened.
And he didn't say it was a talent, he didn't say it was a skill -- he said gift. And he implied that with this gift, came the obligation to share the beauty that I see. And I know he was talking about real beauty. The kind that isn't skin deep. The kind of beauty that is radiant. The beauty of God's creations -- all kinds. 
That was nearly eighteen years ago, but I've thought about it ever since. From that day forward, I've been more conscious of my surroundings. I found that beauty -- real beauty -- is everywhere. If you have, as they say, eyes to see it. And ears to hear it. And a heart to understand it.
Don't misunderstand me, I'm not claiming some great insight into the human condition here. But I have found that when you look closer, when you wait patiently, and when you learn to expect it, beauty presents itself -- even in the most unusual places. Those are my favorite -- the ones you have to work for.
I'm not sure how best to share beauty. I suppose that's why my hobbies have gravitated toward things like writing and photography. If this is truly a gift, I am grateful for it. 
Life is hard enough without seeing the world around you as an ugly place. 
True beauty is a blessing and a gift. 
At least to me it is.