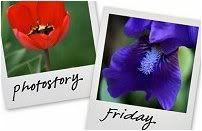 Hosted by Cecily and MamaGeek
Randomness. 
Or, I can't think of anything to write, so  I'm winging it. 
Do you ever think about how random our lives are, and how significant that can be? One choice, one event changes everything. 
In Wyoming, along the old Pioneer trail, there is a point called the Parting of the Ways (I wish I had a picture of it, it would make a great Photostory). This is the point where the trails West diverge -- you can still see it to this day. The trail branches, with one path heading slightly north, the other slightly south. For miles and miles they run in sight of each other, but their eventual destinations are hundreds of miles apart -- one ends in Oregon, the other in California. 
I often think about one particular random (and tragic) event, that literally changed the course of my life. In 1975, when I was about two and a half, my brother Scott, who was almost eight, was being chased by some older boys while riding his bike, and was struck and killed by a car. A tragedy, no doubt. But...
My parents received a death benefit of $8,000, which amount gave them the opportunity to buy a house in Sandy, Utah. At the time they had no real prospects - or plans -- to buy a house anywhere. Moving to Sandy, I met Aaron, my best friend of now thirty three years. Eventually, Aaron introduced me to my wife. 
My wife, my kids, my home, my life all moved in one direction by a seemingly random event.  
Randomness or fate?
So in the spirit of randomness, I selected, at random, a picture from my files to tell you about. 
And boy did I luck out -- the pictures to either side of this are a half dead flower and a rather unflattering self portrait. 
This is a Healing Field. 
Healing Fields take place all over the country now, but this was the first. They were begun by a flag company here in Salt Lake City, as a tribute to the fallen heroes and victims of September 11, 2001. There is a field full of flags -- one for each person who lost their life on that terrible day. It is an awesome and overwhelming experience to stand quietly, in the midst of nearly three thousand American Flags. 
It makes you think about the randomness of life, actually.
How quickly life can change. 
How far reaching and profound one event can be.