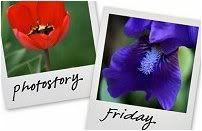 Hosted by Cecily and MamaGeek
In the West we have what is called Desert Varnish. This is a substance that adheres to rocks in arid climates, staining them with darker and sometimes interesting -- and even beautiful -- shapes. 
As I was walking up the front steps the other day, I glanced down at the ground by the rose bush, and this is what I saw:
And since I now wander through life, searching for Photostory ideas (so do you, admit it), I knew I had a good one here: Finding happiness in unexpected places. 
I was going to write something deep, about how this little rock sees wind and rain, sunshine and snow, yet keeps on smiling through it all. 
I would write that life is certainly not always filled with happy circumstances, but that if you have a list of demands and conditions that have to be met before you will be happy, you have ensured that you never will be. 
I was going to say that happiness is a choice, and that if your eyes and ears and heart are open, you will find it in the most unexpected places. 
I thought of all of this in an instant.
In the next instant, I took a closer look at the little rock, and the ground surrounding it.
I believe in miracles and I believe in coincidences. 
I also believe in a five year old, with a marker and an artistic inclination, spreading joy in the front yard. 
And that's where I found happiness.