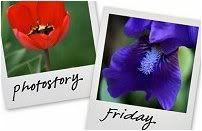 Hosted by Cecily and MamaGeek
The day we moved into our house last summer -- before we unpacked a single box, even before we put the beds together -- I went and bought a basketball hoop.
Among the fathers and sons, in my family, basketball hoops are very important.
We're not great basketball players. 
None of us play on a basketball team.
We don't spend an inordinate amount of time following any basketball teams.
We don't keep score. 
The truth be told, we don't really even play basketball -- we just shoot hoops. And with only one rule: you shoot until you miss. But, I wouldn't trade what happens under that hoop, for anything in the world. I can't think of a word to express exactly what that is. "Bonding" is the closest approximation I can come up with.
It's where the generations of sons and their fathers come together, on common ground. 
It's where my dad and I developed a true friendship, in the last few years of his life. 
It's where my son and I spend hours talking about the important things of life. And the unimportant things. And sometimes not talking at all. 
It's where we show to our fathers, and to our sons, that they are important -- that we have time for them. 
It's where I feel my dad's presence most powerfully, and where my son and my father -- who never met -- join me in an unbroken line of hoop shooters. 
To me, it's sacred ground.