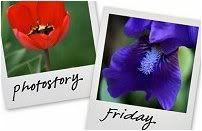 Hosted by Cecily and MamaGeek
"Work consists of whatever a body is obliged to do. And play consists of whatever a body is not obliged to do."

The above quote is from "The Adventures of Tom Sawyer" -- one of my favorite books of all time. It comes at the place in the story where Tom, as a punishment from his Aunt Polly, is sentenced to white wash the fence. But Tom, ever resourceful, outsources the job to all the other boys of the village, by convincing them that it isn't work, but actually fun (he also convinces them to pay him for the privilege). 
I think about this concept a lot. 
Have you ever noticed, in your life, how close pain is to pleasure? Often it's simply a matter of intensity -- or, as in Tom Sawyer's case, obligation. 
My ancestors trekked across barren prairies and burning deserts because they had no choice, their freedom, and even their lives, depended on it. 
Today, I hike through burning deserts for fun. 
Which brings me to Emma (I find that I'm learning an awful lot of life's important lessons from my youngest daughter)...
When we moved in to our current home, last July, we found that we were the owners of a permanent dog run. We do not have a dog. We have no intention of getting one. The run sits on, and is bonded to, a large cement slab. It's a well made (immovable) structure. I have pondered all winter what to do with it. 
And apparently I wasn't the only one. 
As soon as the weather began to break this Spring, Emma and the other kids, moved in to the dog run, claiming it as their clubhouse. Emma will spend, literally, hours in this cage. As often as we'll let her, she takes her meals out there. She'll actually lock herself in.
Think about that.
If I were to punish Emma by locking her in a cage, I would go to jail. And rightly so. But, if Emma locks herself inside "for fun," it's a cute PSF. 
As a father and a husband, there is so much obligation, so much stress -- and I accept that. The rewards are worth the price. But, I find myself wondering how much of the stress of my life could be eased with a new perspective -- say from about 4' 1" off the ground. 
I think I'll take my dinner in the dog run tonight.