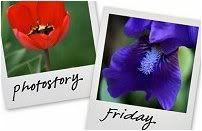 Hosted by Cecily and MamaGeek
"What are you doing?" asked my boss, as he paid me a surprise visit, in my office this morning.
"Well," I replied, sheepishly "I'm...uh...taking pictures of my pants."
I love cargo shorts. I have several pair, from Old Navy (the most comfortable) in various shades of khaki. In the summer time, that's all I wear.
Okay, it's not
all
I wear, but you get the point. I can always tell when the seasons are changing, because my shorts start to fray, and wear a little thin (well, I can tell the seasons are changing in the other ways too). They're size 34 these days. That's a little disturbing.  
I've always maintained that boys carry everything they need to survive, in their pockets. And with cargo shorts, I have two additional, and very big, pockets, in which to carry more of the stuff that I can't possibly live without. But here's the problem: I also carry a
LOT
of other stuff too. See, I'm a note writer -- I constantly scribble notes to myself, intending to get back to them, but more often than not, I don't. But somewhere, back in the deep, dusty, cobwebs of my mind, I believe that what I have written down is important, yet when it comes time to transfer the contents of my pockets to the next pair of shorts, I'm usually trying to get out the door in the morning and, well, you probably see where this is going...
So, anyway, I had a little time this morning, so I thought I'd clean out my pockets...Here's what I found:
Right Front Pocket:
 Key ring (with 16 keys -- I think I need a second key ring) Pen (my Parker Jotter -- essential for writing notes to self, I've carried some version of this pen since I was nineteen. I take it everywhere. Almost everywhere).  Generic package of two Ibuprofen tablets, from the medicine cabinet in my office. I had a headache a couple of weeks ago.
Right Side Pocket
:
Knife. Made by Gerber (the knife company, not the baby food company), half straight, half serrated edge, 440 steel, 4 inch blade. If you carry a knife, you will find a use for it everyday. And most of those reasons don't involve hurting your co-workers. Most of them. Ipod Nano. 4 gigabytes of books on CD.
Back Right Pocket:
Wallet. Contains driver's license, which apparently expires this month -- good to know -- debit card, library cards, from 6 different library systems (I'm such a rebel). And, astonishingly, 75 dollars in cash, from a photo shoot over the weekend. I forgot all about it, there's so rarely anything in there. I wonder how long it would have stayed there?
Back Left Pocket:
One, used, toilet paper tube. Sometimes, you write notes to yourself on whatever is handy. This one says "Leg lamp, ink, dvd, shoelaces." I have no idea how old this is.
Front Left Pocket:
One rumpled dollar bill. Two Jolley Ranchers -- peach smoothie and orange smoothie. Five Stride Spearmint gum wrappers. Cell phone -- I hate my cell phone, but I'm eligible for an upgrade this month! Two quarters (wow! where did all this money come from?) -- an Ohio and a Virginia. And three notes to self:
1.
Parmesan, Butter, AJ (apple juice) - a grocery list from last week. Glad I kept that.  
2.
Ink for pen, notebook (go figure), novel, fall leaves, Revolutionary War, ghosts, something illegible.  3. A list of future blog post ideas - it's a surprise!
and finally,
Left Side Pocket:
To go menu from Chili's (I got a craving last Saturday night), One more note to self, this one written on a napkin from Jamba Juice -- Violin, ink (I go through a lot of ink, writing all these notes), pigs, tacos, prescriptions, gas, bank, ice cream cake. One mysterious little scrap of paper, that just says unicycle. What the...?
Full pack of Stride Spearmint gum. This is the gum I endorse. My dentist/brother-in-law says that the ingredient zylotol promotes healthier teeth. That's why I chew it. That, and the fact that you can blow bubbles with it, even though it isn't "bubble gum." Carmex -- my lips were chappy -- in August. And last but not least, my flashlight. My boss makes me work in the dark, so it's three LED's come in handy. And it also comes equipped with a red laser light, useful for pointing at co-workers, from afar, causing them to think that they are being targeted by a sniper. We have a lot of those in the moving industry. 
Am I the only one who does this?
This is why I wear a belt.
That reminds me... I need some ink.