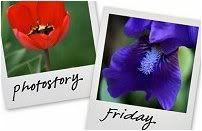 Hosted by Cecily and MamaGeek
I've been thinking, for the last couple of days, about something my mom said to me, Sunday afternoon.
But, let me digress for just a moment, to give you a little background to my story. My dad died, suddenly and unexpectedly, ten years ago this December -- six months before the birth of my son, Matthew. Because we didn't see the tragedy coming -- the death, not the birth -- my dad didn't know about the pregnancy. The announcement was going to be our Christmas gift to him that year. But, we never got the chance.
I have many regrets over the loss of my father, but the biggest has always been that my kids would never know him. He knew my daughter, Jordan, who was a year and a half old, when he passed away. But, she doesn't remember him, and he never saw Matt or Emma.
Back to my original story: we were eating dinner with my mom last Sunday -- chicken, corn, potatoes and gravy and biscuits -- when she noticed the way my son eats. Matthew separates each portion of food from the others, and then eats them, one by one, finishing one item completely, before moving on to the next one. When she asked him why he does this, Matt replied that he doesn't like to get the different flavors mixed together. No one else in my family does this. Or so I thought. After hearing Matt's explanation, my mom turned to me and said "That's just the way your dad used to eat." 
Inheritance is a funny thing. Often we think of it in terms of money, or property. My dad was a man of enormous artistic talent, but financial realities made him the owner, and only employee, of a small print shop. He didn't have a lot, and when he died he left very little behind. I have a battered old cowboy hat, his camera and a poem he wrote that maybe I'll share someday. I don't even have any pictures (I've hauled around a cd, with family photos on it, for ten years, but I think I lost it in our move). 

I don't wear the decrepit hat (no one could wear that ratty thing), and though that old Canon gave me my start in photography, I don't use it anymore. I was feeling my dad slip away, in to the hazy, recesses of memory. 
But, I'm seeing things differently today. I see more of my dad, in my son, everyday. I see it when we throw the football in the backyard, and when we shoot baskets. I see it in the glasses he wears. And for the rest of my life, when I watch my son, and his bizarre eating habits, I'll know that my dad is still here. 
Somewhere, I believe he is smiling at this.
I am too.
Someday, maybe I'll tell you about our crooked toes -- but, that's an inheritance from my mother.