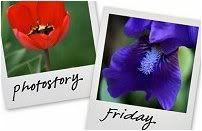 Hosted by Cecily and

MamaGeek
Our American Halloween has come down to us, as an amalgamation of many ancient traditions, and mystic beliefs. Some of those beliefs are more benign, such as trick-or-treating -- a gift from the British celebration of Guy Fawkes Day (a celebration of the overthrow of Oliver Cromwell). Other traditions are more vulgar and disturbing -- like ritual sacrifice.
Autumn is a time of harvest and gathering. It is a time of thanksgiving, for the bounty of the previous year. That thanksgiving was often honored with the killing of the firstlings of the flock, or offering the finest produce of the harvest. At our house, we may not always do it in the spirit of thanksgiving, but we do offer up a ritual sacrifice, right around October 29, every year. 
At our house, we are vulgar and disturbing. 
Here, for the first time, with unprecedented access, is the account of this bizarre and troubling rite:
To be chosen as the victim of sacrifice is a great honor.
Selection is a very long process.
A...very...long...process
Death is swift. And Brutal.

The cranium of the victim is opened and the innards are removed. The victim has no brain. This ritual must be performed with the most serious of visages.
It is vitally important that you smear said innards all over your jeans and new white shirt, that you just got for the family picture. Over and over and over again.
Vitally Important!
The entrails are saved, and later, fortunes are told. I see a new white shirt in your future.

The final aspects of the sacrifice are somewhat bizarre: Hugging the corpse.
Chanting, with the scalp of the victim on your head.

The sacrifice is beautiful, in its gruesome glory. And if done right, in the end, everyone is smiling.
Even the victim.

No children were harmed in the making of this Photostory. The picture of the child with the butcher knife was staged. There were emergency personnel on hand, at all times.
What kind of a father do you think I am?
Sheesh.