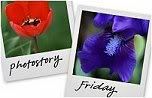 Hosted by Cecily and MamaGeek
Art is an expression of the Divine nature in each of us.
It is one way -- maybe THE way -- that we are truly like God.
God is an artist.
He takes of the elements, reorganizes them, and creates something new. The materials may be elemental, and eternal, but the creation -- the art -- is new in the universe.
I've always been fascinated by those who make their living with their art. They are detail oriented, they have to be. They are alive to the world around them. I think those people are the ones who truly love their jobs. It could be photography, or painting, or architecture, or even sports, but when it becomes yours, when you feel it from the inside out, and you invest it with a piece of your soul, it becomes art.
When we were in Disneyland, back in May, we had the kids sit for a caricaturist. I was absolutely fascinated, not only by her speed, but her ability, even in a cartoon, to capture my children. She saw, immediately, what I had never seen in my own kids -- they each have different noses.
She created something for us that evening, that I treasure. This piece of art encapsulates all the memories of our trip. And I've thought about my kids' noses every day since then.
Art, by it's very nature, is meant to be shared. The word art is short for articulation -- it is your statement to the world. The best artists -- the truly great ones -- don't keep their art to themselves, they share it, as this wonderful artist in a small corner of New Orleans Square did for our family.
Come to think of it, that's just what God does too, isn't it?