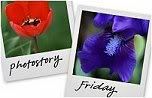 Hosted by Cecily and MamaGeek
You've probably seen a few of these pictures before, but bear with me -- I just thought of a new way to talk about them!
I got serious about photography, nearly twelve years ago, when my first daughter was born. The problem was, I had no idea what I was doing. I hijacked my dad's Canon SLR, and started pointing and shooting. I liked the results, so I kept doing it. I've never had any photography instruction.
That may or may not come as a surprise to you.
For years I kept my pictures to myself, and I never really interacted with any other photographers. I primarily shot my kids (that sounds deliciously irreverent and at the same time terribly wrong, doesn't it?), and over the years I discovered a few techniques for taking better (or at least more interesting) pictures.
When I began to associate with more photographers, I was surprised to see how many of them (most self taught as well) had discovered the same things that I had:
Shoot in natural light, whenever possible.
Never. EVER. Say cheese.
Zoom in close -- fill the frame.
Live in their world -- get down to the level of the child.
But the one that really surprised me was shooting from behind.
The idea of taking a picture of something from behind runs so counter to your initial photographic instincts, that I was sure I'd stumbled on some hidden gem of knowledge -- evidently I have an ego-centric streak.
EVERYONE does it.
I shoot my kids (there's that phrase again) from behind at least as often as I do from the front. I do the same thing when taking pictures of other people -- be it brides or families -- and, inevitably, THAT is the picture that gets the ooohs and aaahhhs. You'll notice, even my profile picture is shot from behind.
It's my favorite way to pose a picture, and I've tried, for years, to figure out what the appeal is, and I've finally decided that
CAUTION!!! HERE COMES THE WORLD ACCORDING TO CHRIS!!
for me any way, these pictures are full of life.
Animation.
Rather than capturing a static moment, they seem to convey movement -- the notion that you've dropped in, in the middle of something.
The idea that the story continues....
So, that's why I do it, why do you?