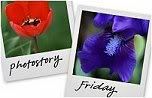 Hosted by Cecily and MamaGeek
One of my favorite ways to pass a summer evening is to lie out on the trampoline, and stare into the heavens. We have hordes of dragonflies who put on quite an air show (and keep the mosquitos at bay). The horizon blazes like an inferno as the darkness rolls westward.
Blue to cobalt to navy to black.
The stars wink on, and you find yourself looking in to the face of time itself.
Normally I do this solo, but last night I had a companion...
Emma:
Daddy, (I love being called Daddy, and she knows it) can I come up on the trampoline with you?
She snuggles in close, and lays on my outstretched arm (I could do this all night). She follows my gaze upward. She watches for a moment.
Emma:
Daddy, what are we doing?
Me:
Just laying here, looking at the sky.
Emma:
Oh..........(stares intently for a few seconds)