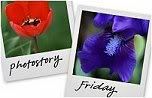 Hosted by Cecily and MamaGeek
Birthday's tend to make me melancholy.
Not my own. I've always been comfortable with my own age. But watching my children grow older makes me pause.
Emma turns six today.
How did that happen? How did the pudgy ball of a baby become the slender six year old beauty?
My first -- and I suppose selfish -- reaction is: "What do I have to show for the last six years?"
Then I remember...
I have miles of afternoon walks, and hours of hand holding. There are songs on the front porch, and dance recitals on the front lawn. I have thousands of kisses and million watt smiles. There are games of "I spy," and Candyland. There are piggy back rides and ENDLESS questions, about EVERYTHING!
There are "I love you's" -- yelled across the yard, for all the neighborhood to hear, and whispered for just me.
I think there is no man richer than I am.
Emma is growing. It's inevitable, and I wouldn't hold her back. This one is going to set the world on fire.
Just allow me my melancholy moment.
Happy birthday Punkin.
I love you Emma!