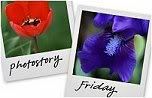 Hosted by Cecily and MamaGeek
I have met the enemy, and he is me.
Have you ever witnessed a catastrophic event, and known fully, undeniably, irreconcilably that you are to blame?
And worse, everyone else who witnesses said event also knows, beyond all doubt, that you are to blame? See, I have this problem -- since I was very young I have tended to -- when upset -- supplement my language with, shall we say, colorful metaphors.
The problem is, I have these kids, who have VERY selective hearing.
Here's a quick little video, that Emma made all by herself. We discovered it over the weekend.
I am a
CORRUPTOR OF CHILDREN!
But, would you like to know my real character flaw -- the reason I should NEVER have been allowed to procreate?
After I stopped laughing, and decided to post it, I found that it was gone. It had been misplaced, and before I located it, I actually considered trying to get Emma to do it again!